October 12, 2021: Changes to file upload process, visual changes to Items linked to Master Information and more.
Changes to File Upload Process
We have revamped the file upload process to include a visual update as well as the ability to tag files based on document type.
The changes have been made to the file upload process within a section as well as on the "Files" tab within a project.
You can now also search for files within a section based on whether it was uploaded by you or a member of your team.
Visual Changes to Items Linked to Master Information

We have given a visual change to the items linked toMaster Information so that you can easily identify which fields are linked to Master Information.
This new change will simplify the authoring experience, especially in cases where a significant number of fields are auto-populated from the Master Information.

In order to view or update the Master Information data, you can click on the "go to Master Information" link. You will then be redirected to the specific sub-section of Master Information that is being referred to.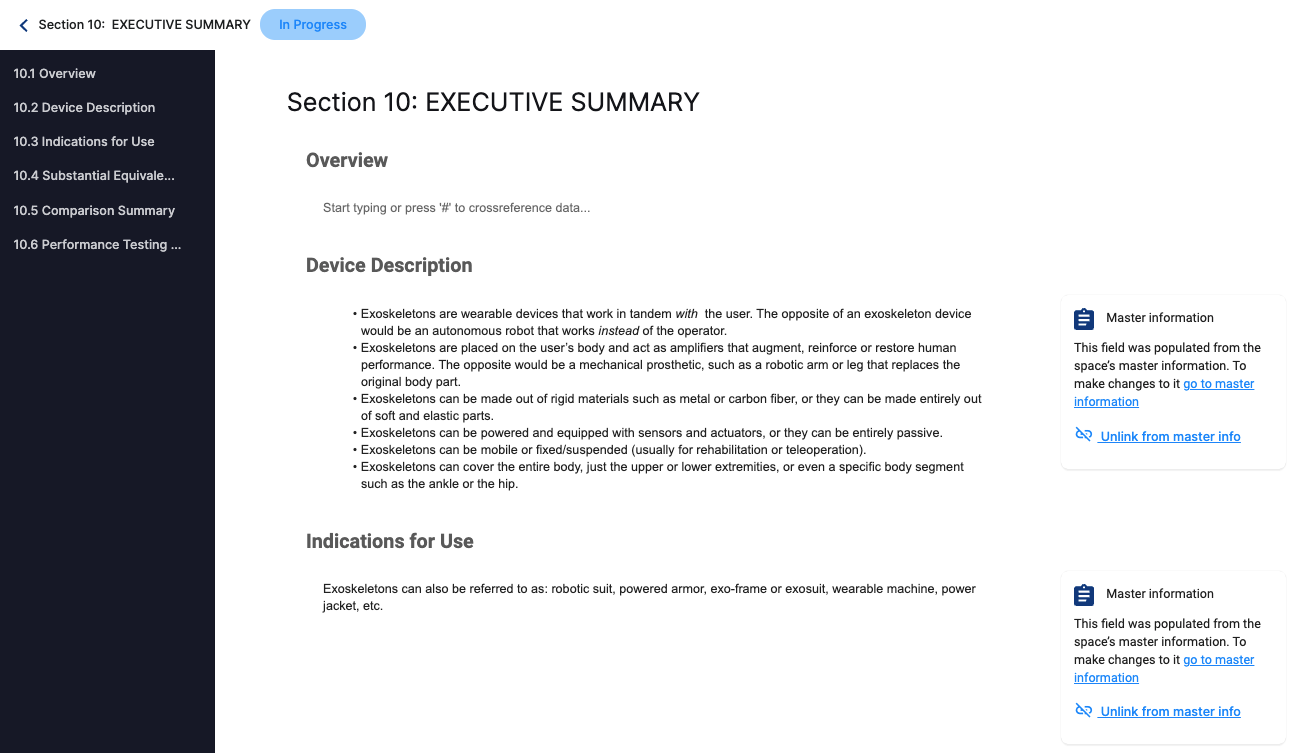 Other changes:

Below are a few additional minor changes that were released:
Master Information: You will now see green checkmarks on the Master Information screen when a sub-section within Master Information is 100% completed





Sections screen: The Section completion percentage calculation has been updated to account for completion of the "Device Characteristics" section in Master Information





Team screen: You can now view the invitation status of the team members that have been invited to access the project




Inviting users to access Section(s): The email that is sent to the users that are provided access to section(s) within a project is updated to ensure they can see which sections they have received access for as well as the permission they have for the section(s).


Bug fixes: We fixed a few minor bugs in this release.

Related Articles

Understanding Master Information

What is Master Information (MSI)? Master information (MSI) is a collection of the most common "mandatory attributes" used in regulatory documentation across the medical device lifecycle. MSI was carefully designed to combine fields across three ...

October 6, 2021: Duplicate Projects, Master Information Completion Percentage and bug fixes.

Duplicating Projects: We are adding new functionality to duplicate projects. Duplicating projects are useful in multiple scenarios including when you get an Additional Information (AI) request for which you only need to make changes to specific ...

November 22, 2021: Virtual Assistant for Master Information, embed a project as a section and more.

Virtual Assistant for Master Information We have added a virtual assistant to Master Information similar to the authoring environment. The virtual assistant provides contextual tips and best practices to populate the section you are working on. To ...

General Information

The General Information category in Master Information contains the following attributes to be completed by the user. Geographic Location Company Information Contact information

Regulatory Information

Regulatory Information category in Master Information (MSI) is used to create and manage regulatory strategy for various marketing geographies. It has a generic section for Indications of Use and then geography-specific sections: Regulatory Strategy ...