Feb 14, 2022: GSPR review incomplete fields and Performance Improvements
Review Incomplete Fields for GSPR
The GSPR is a really long checklist and is completed over an extended period of time as evidence becomes available. Therefore we have now added an option to help users identify missing details for completing GSPR with even more ease.
Say good bye to manually and painstakingly update and maintain GSPR in excel or word document. To view the incomplete fields click on the elipses (three dots) as shown below on the right hand side of the screen.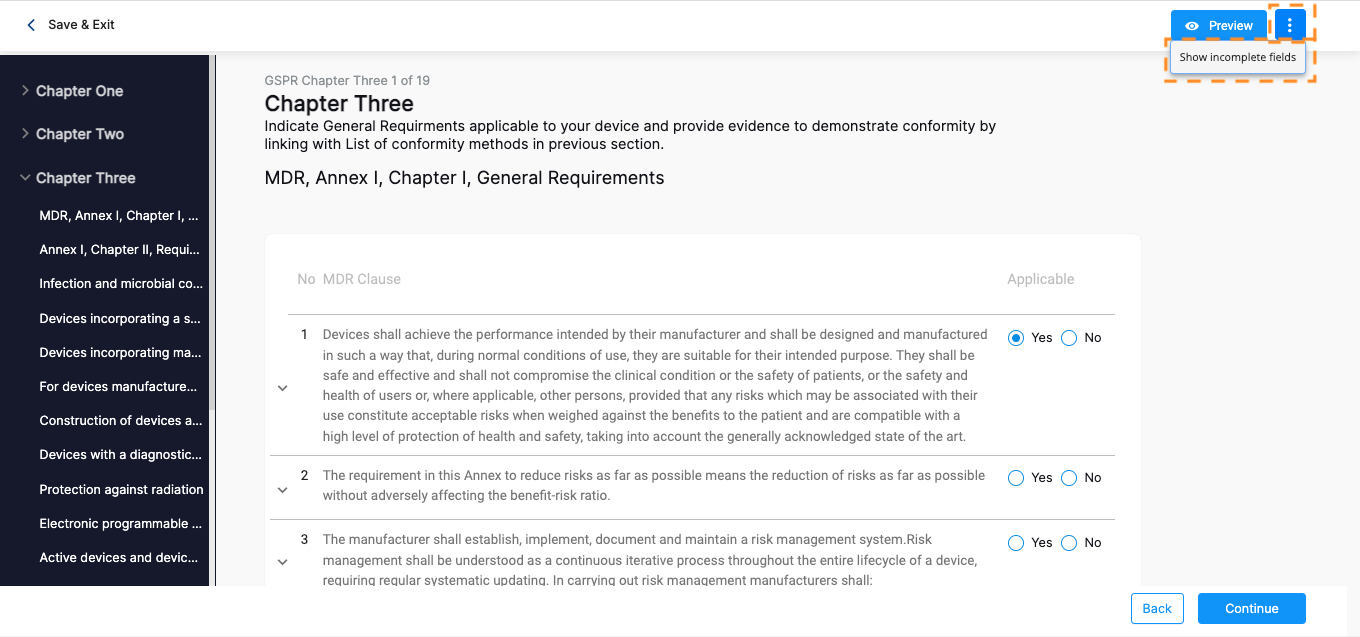 Show incomplete fields
By clicking on the show incomplete fields button, displays the incomplete fields pop-up with the number of incomplete fields and a way to easily navigate back and forth to resolve them within the actual checklist in the relevant chapter.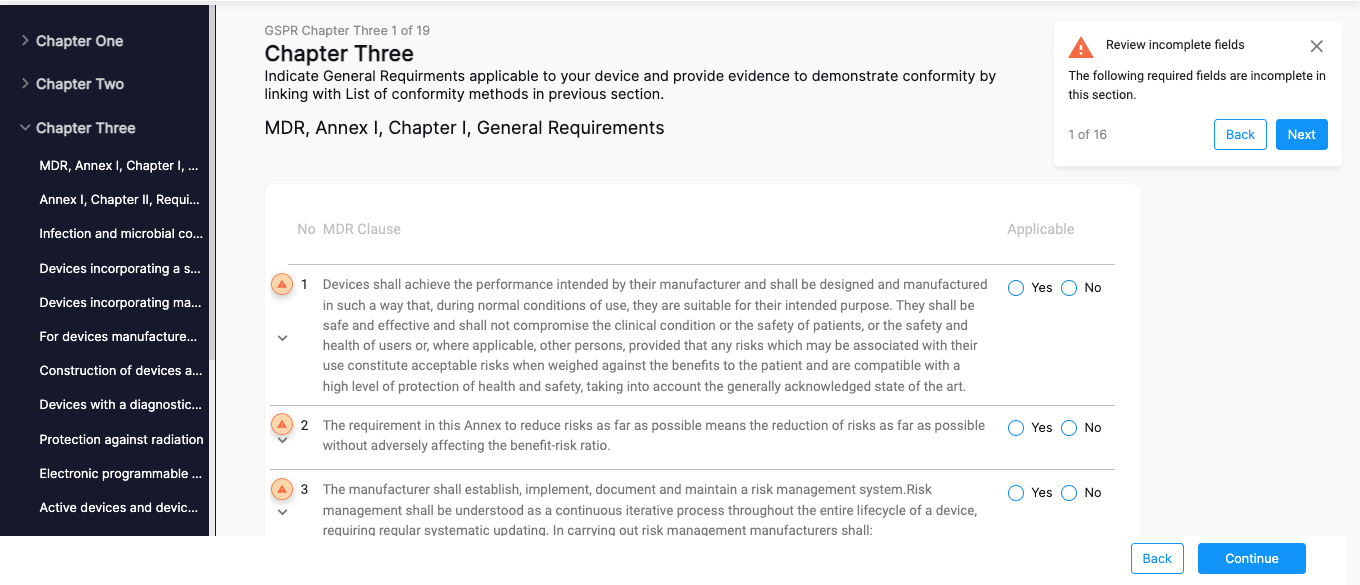 Review incomplete fields
As more information and evidence becomes available in your technical document and testing process, come back and update the relevant sections easily to continue to make progress towards completion.
Performance improvements for Projects and Sections

We implemented minor performance upgrades in Projects and Sections List. The following should provide a much better experience even for bigger sized projects:

The time taken to load section list view inside a project is upgraded to resolve occasional timeout issues

Improvements to cross-reference within section for better authoring experience
Related Articles

November 10, 2021: Review incomplete fields, Files at the Space level and more.

Review Incomplete Fields Regulatory Specialists are used to spending time reviewing and proofreading the submission to ensure they did not miss out filling up details in any part of the submission. This process is time-consuming and error-prone since ...

GSPR Checklist

The GSPR stands for General Safety and Performance Requirements as listed in Annex I of EU MDR 2017/745 and EU IVDR 2017/746. These requirements are similar to the Essential Requirements under MDD 93/42/EEC. The GSPR has 23 requirements under EU ...

Mar 14, 2022: Improved Sharing and Collaboration, Space Activity Log and Performance Upgrades

New and Improved Sharing and Collaboration Sharing and Collaboration to work with internal and external collaborators just got better. Now users with appropriate permissions can share space, project or sections easily within Essenvia. Add Members ...

Preview and Publish

Overview Essenvia allows users to preview and publish a section or the entire project on-demand. Users can set account-wide publishing preferences that apply to any project created or override preferences for individual projects by setting project ...

Understanding Master Information

What is Master Information (MSI)? Master information (MSI) is a collection of the most common "mandatory attributes" used in regulatory documentation across the medical device lifecycle. MSI was carefully designed to combine fields across three ...